Red Oak Specs
Color:

White with faint red hue.
Specific Gravity:

.56
Hardness

4.5/5
Workability:

Takes stain and finish well. Machine and hand workable.
Durability:

Slightly. Not as durable as W. Oak.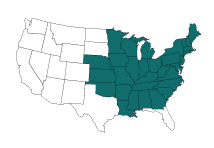 Red Oak Lumber
Red Oak has a light reddish color subtle hues of darker browns and reds depending on soil and environmental conditions where the tree was harvested. Red Oak is used often in furniture building, flooring and cabinetry.
When quartersawn, Red Oak displays more dappling and fewer, smaller medularry rays than quartersawn white oak.
Red Oak Gallery
Red Oak Pricing
Current Red Oak lumber prices are below.
Select and Better
Price
Red Oak

4

/

4

thickness
$2.25
Red Oak

8

/

4

thickness
$2.50
Red Oak

12

/

4

thickness
$3.50
Wide Stock Red Oak
$1.25 +
Kiln dried to between 6 and 8% moisture. Discounts available for larger quantities. Call for details.