Black Walnut Specs
Color:

White sapwood. Reddish brown to dark brown heartwood.
Specific Gravity:

.51
Hardness

3/5
Workability:

Among the most easily workable hardwoods.
Durability:

Very rot resistant. Prone to insect problems.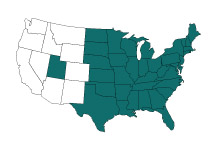 Black Walnut Lumber
Long prized for it's stability, workability and natural beauty, Black Walnut lumber is ideally suited for a wide range of applications including flooring, furniture, cabinetry and turning. Quartersawn Black Walnut presents vertical grain with light and dark streaks.
Ohio Timber Works has a reliable supply of quality Black Walnut lumber year round. Click on the thumbnails below to enlarge them and learn more about the natural beauty of black walnut lumber.
Black Walnut Gallery
Black Walnut Pricing
Per board foot pricing information for select and better Black Walnut lumber.
Select and Better
Price
Walnut

4

/

4

thickness
$5.25
Walnut

8

/

4

thickness
$6.25
Quartersawn Walnut
$7.50
Wide Stock Walnut (7″ – 10″ width)
$1.00 +
Widest Stock Walnut (10″+ width)
$2.00 +
Live-edge Walnut Slabs
Price
Live Edged Black Walnut Slabs 14-20″ Wide
$9.00
Live Edged Black Walnut Slabs 21-36″ Wide
$10.00
Live Edged Black Walnut Slabs 36″+ Wide
$12.50
Kiln dried to between 6 and 8% moisture. Discounts available for larger quantities. Call for details.