Ash Specs
Color:

White to pale brown
Specific Gravity:

.54
Hardness

4/5
Workability:

Highly machinable
Stainability:

Fair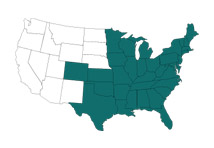 White Ash Lumber
Ash lumber is white to pale brown in color with straight grain. Like Hard Maple, several species of Ash are fall under the White Ash heading including green, white and blue Ash species'.
Ash is strong for its weight and is used in flooring and furniture. Because it is strong and especially resistant to shock, Ash is the lumber of choice for baseball bats and most wooden tool handles.
Ash takes stain very well and though it is becoming harder to find, Ash remains an affordable substitute for White Oak. Quartersawing Ash produces vertical grain similar to rift Oak without perceptible medularry rays.
W
ith the introduction of the emerald ash borer, the unfortunate reality is that the ash genus will soon be extinct. In the meantime, Ash supplies remain stable
due to pre-emptive harvesting and forest management, as explained in our blog post on the subject.
Ash Gallery
Ash Pricing
Our current prices for Ash lumber are listed below.
Description
Price
Ash

4

/

4

thickness
$2.50
Ash

8

/

4

thickness
$3.50
Kiln dried to between 6 and 8% moisture. Discounts available for larger quantities. Call for details.