White Oak Specs
Color:

White sapwood to light gold heartwood.
Specific Gravity:

.60
Hardness

5/5
Workability:

Takes stain and finish well. Quite machine/hand workable.
Durability:

Good rot resistance.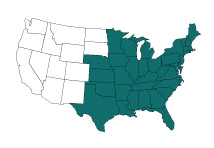 White Oak Lumber
White Oak has a light golden tone and is one of the densest, strongest of all North American hardwood lumber varieties. It has small pores making it suitable for outdoor uses like fencing and siding as well as indoor uses like flooring, furniture and cabinets.
White Oak is widely used in furniture and cabinet building because of it's exceptional workability and reasonable price.
We maintain stocks of quartersawn and rift white Oak as well as live-edged White Oak slabs.
White Oak Gallery
White Oak Pricing
Current White Oak lumber prices are below.
Description
Price
White Oak

4

/

4

thickness
$3.00
White Oak

8

/

4

thickness
$4.00
White Oak

12

/

4

thickness
$5.50
Wide Stock White Oak
$1.50 +
Kiln dried to between 6 and 8% moisture. Discounts available for larger quantities. Call for details.