Hard Maple Specs
Color:

Very light. Darker knots.
Specific Gravity:

.56
Hardness

4.5/5
Workability:

Good considering high density.
Durability:

Not weather resistant.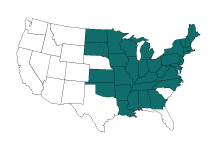 Hard Maple Lumber
Both the sapwood and heartwood of Hard Maple lumber is very workable and commonly used in furniture, veneer, flooring, cutting boards, butcher blocks and more.
When slabbed, Hard Maple is striking due to the contrast of it's rough bark against the light tone of the wood.
Hard Maple Gallery
Hard Maple Lumber Pricing
Current Hard Maple lumber prices are below.
Description
Price
Hard Maple

4

/

4

thickness
$2.85
Hard Maple

8

/

4

thickness
$3.85
Kiln dried to between 6 and 8% moisture. Discounts available for larger quantities. Call for details.